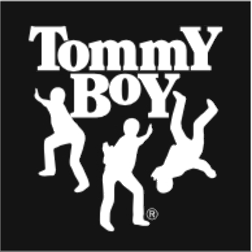 I showed up for my first day… not knowing what to expect. First thing I noticed was this place wasn't like any office I've ever been in. Vibrant colors, graf pieces on the walls… other walls were almost see through. Music posters everywhere of artists.. some I was familiar with, Capone n Noreaga, others I never heard of, Joy Drop. It was exciting to get acclimated with my new surroundings… something that stood out like a sore thumb though, the people who worked there didn't seem to match the surroundings. I paid it little mind as the woman who got me in there in the first place showed me around.
The first artist I ever met was Coo Coo Cal. All I knew was he had a song called "In My Projects". I didn't think it was a great song at all… I actually thought it kinda sucked, but he was cool as hell. I wasn't really phased at meeting a somewhat celeb… thinking back I was only star struck once, at Def Jam when Jermaine Jackson walked into the office… and the only reason I got hype was because I thought Michael Jackson was in the building (he wasn't). Now THAT is star power… when seeing someones brother gets you almost starstruck.
In any event I walked around some more… Tommy Boy had a Gym on premise which I thought was GREAT. I looked inside and everything was kind of dusty. The reason they had a Gym was because Tom Silverman, the founder of Tommy boy was a gym freak. He wasn't there on a day to day basis and I guess no one else felt like working out. I added that to my to do asap list. So I finally get to my cubicle which was literally in the farthest corner of the building and learned I'd be doing video promo. Then I met my supervisor.
Now let me preface this by saying anyone who gets an entry into this industry will take from it what they will, but the first person they work for will shape their outlook on everything industry related from jump. I got really lucky when I met my direct supervisor Lou. He was a real cool dude who almost seemed like he didn't want an intern. I say that because all the menial shit I was expecting to do like make copies or phone calls or bring shit to the mail room..he wanted to do himself, I guess he felt like "how can I ask this kid to do this shit". It took a while for him to let help out some. Before that I was killing the solitaire and minesweeper games wasting time. Eventually we got to talking and he told me he DJ's… came over from another label to take this position.. a little of his college days. I remember we'd debate what songs were hot… He particularly hated that Mobb Deep 112 love song, I didn't think it was all that bad. Stuff like that. Building with Lou showed me how cool, down to earth people could be in this shit… though everyone else I met in that building seemed to be either on edge or had a chip on their shoulder.
One day Lou had to go away for some trip, but the video promo time stamps needed to be written down… basically an artist recorded personalized greetings for a bunch of different radio and television stations on one long tape and I had to sit there and get the beginning time and end time of each statement. Basically… tedious, but I had no problem at all doing it. I got in at 10 that day and left at 9. By the time I left however they were all done. When he came back he was shocked I stood so long and he made sure I got paid for my time. Stand up dude in every respect.
Now so far I kind of glossed over the impact Tommy Boy had in music. Originally an independent label and by far the most successful of all the indies back then, Warner Bros eventually picked up a 50% stake in the company… ultimately buying the other 50% and then at some point selling 50% back to Tom Silverman… etc etc etc. Tommy Boy put out releases by De La Soul, Naughty by Nature, House of Pain, Digital Underground, Afrika BamBaataa, Biz Markie, Capone and Noreaga in addition to all the Dance, Freestyle and House projects. Tommy Boy was exceedingly successful for the era it came up in… but I remember going to the mailroom and one of the guys who worked there pointed at the Everlast solo album plaque saying "All that Whitey Ford money gonna dry up soon" referencing the double platinum sales of Everlast's solo album, apparently the labels last significant money maker. The consensus seemed to be that Tommy Boy lost the beat it had on the pulse of the cutting edge. While the mail room guys discussed the finer points of the music bizz… I would stock up on all the CDs that I could. Freestyle Compilation Vol 1-10… Don't mind if I do!
So there I was… 19.. working at a record label… getting paid for it.. I felt pretty good. Then I learned why everyone was in a bad mood.