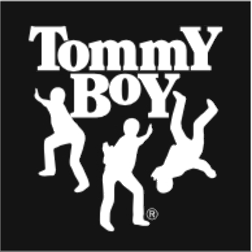 People in entertainment tend to brag about how much work they put in and how they 'Never sleep, cause sleep is the cousin of death nah mean'. While I can't verify the hustle of anyone else, There was a time when I split my days between part time college, part time job, indie mag writing, Tommy Boy and Epic. That time taught me a lot… and fast.
On one hand you had Tommy Boy, a Label past its prime and on the other there was Epic, a power house with deep pockets and a staff full of egos only eclipsed by their expense accounts. I'd hit up TB early afternoon and Epic in the evening. Typically I'd grab a bag and walk out with all the latest Sony releases to bring em to the Tommy Boy staff who requested them. Label employees typically exchanged music between one another, but no one was asking for any Tommy Boy music unless they wanted to re-up on their De La Soul catalog.
Tommy Boy had a place in history though. Aside from Freestyle, which is what I knew it for, they broke the artists Naughty By Nature, Queen Latifah, Coolio, House of Pain and Digital Undergound to name a few. The last word about Tommy Boy in hip hop was from former TB artist Noreaga, who took the first chance he got after splitting with the label to declare on his single with Def Jam that Tommy Boy JUST SUCKS!


Mind you this video played quite frequently on the tv's that were always on, I found it funny.
Tommy Boy was more than past its prime however. That anxiety I felt in the air almost as soon as I got there was because the higher ups got word that the contract with WEA (the former collective of Warner Bros, Elektra and Atlantic) was coming to an end and it as Tom Silverman CEO put it afterward, "It was either buy or sell for either party". That meant WEA would buy the label and most of the acts would become WEA acts. That also meant most of the employees would get canned. This seemed to be the start of a continuing trend of smaller labels getting absorbed by bigger ones.
Everyone was simply waiting to see where the chips fell. Most people wouldn't work in music again, a few others would go their own way in music where they worked for themselves. I was a little miffed since Tommy Boy was a paid gig and Epic was not, but there was nothing to be done. The mag starting to buzz… I was just getting into Epic and I could use a little free time at that point. After it became final, I cleared off my lil desk, said my lil goodbyes and went on my way.
With that I present my top 5 Tommy Boy moments.
5.  Chillin in the mail room, hearing industry gossip and filling duffel bags with CD's.
4. I was working out in the severely under used Tommy Boy Gym one day and Tom Silverman walks in and sees I'm doing curls so he  jumps in. He raises the weight. I go back on and raise it more. This went on until we're curling the entire rack. He gave me a nod and walked out.
3. Listening to demo tapes people dropped off at the front desk that got tossed in the trash. I scooped em out and listened during lunch. One guy dropped off a demo with 28 songs and 4 skits… and it was the worst shit I ever heard in my life.
2. Meeting Freestyle icons TKA during the shoot for their last album cover. It would have been number one had 2 of the 3 of em not been dickheads.
and lastly…
1. Going to dinner at Puffy's old restaurant 'Justins' with De La Soul, Gang Starr and a few label reps and not knowing much of them at the time nor caring because the food was FREE and I went in. RIP Guru though.